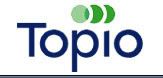 "Network Appliance, Inc. today announced that it has entered into a definitive agreement to acquire Topio, a privately held Santa Clara, California based company with R&D in Haifa, Israel, for approximately $160 million in an all-cash transaction. Topio, a NetApp Strategic Partner, is highly regarded for its innovative software that helps customers replicate, recover, and protect data over any distance regardless of the underlying server or storage infrastructure. The combination of Topio software and NetApp® proven data management solutions will enable enterprises to safely, reliably, and nondisruptively replicate their production data on any vendor system–including EMC, HP, or HDS–to any NetApp storage system.
The joint capabilities of Topio and NetApp deliver a broad range of solutions spanning data protection, data migration, and data cloning. In addition to providing customers with all the benefits that come with the renowned unified architecture from NetApp, the joint solution is especially compelling in two user scenarios. First, customers with production storage not from NetApp can nondisruptively replicate data to a NetApp system and take full advantage of rapid, storage-free data cloning using NetApp FlexClone™ technology, which provides near-instantaneous creation of multiple clones of data without additional storage requirements. Second, customers with mixed legacy storage environments can unify their disaster recovery (DR) environment on reliable and cost-effective NetApp tiered storage platforms and put the DR copy to active business use. "
Notes:
Jeepers, it's another Sequoia backed startup hitting jackpot. Little known Topio, formerly known as SANPro was seeded by Sequoia in March 2001 and raised 2 subsequent rounds of financing in Nov 02 and Apr 05 from Sigma (Pete Solvik, former COO Cisco is on board; Cisco is a big customer) and Star Ventures Management, a German fund, who led the third round.
$21.25M in, $160M cash out. This was a Sequoia Israel deal led by
Shmil Levy
, Partner and former President of Lucent's Internetworking Systems Division. Finally... a Sequoia affiliate making some money for the firm.
Other Sources:
Network Appliance to buy Topio for $160 mln
Reuters
Network Appliance Buying Topio
TheStreet.com
Network Appliance To Buy Software Firm, Topio, For About $160 Mln ...
Trading Markets
start-up Topio for $160m
Globes