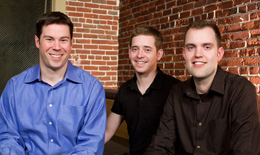 Jive, the maker of a all-in-one social enterprise software, has raised $12 million in Series B funding from Sequoia Capital. Jive previously raised $15 million in Series A funding from Sequoia in August of 2007.
"This is definitely all about growth," he said. "This is all about pretty aggressive expansion on R&D."
In particular, Dave said Jive will be adding jobs -- the company has about 170 employees currently -- and looking around for complementary acquisitions.
"Right now I would say we are shopping," he said.
Jive Software is the global leader in Social Business Software. Built with the best features of collaboration software, community software, and popular social applications, Jive revolutionizes how work gets done in the global enterprise. Jive Social Business Software enables businesses to connect and capitalize on employee and customer conversations. Thousands of customers, including 15% of the Fortune 500, rely on Jive to solve critical challenges in Marketing and Sales, Human Resources, Support and Research & Development. Jive was founded in 2001 and is headquartered in Portland, OR. Jive's work force is split between Portland and Palo Alto.
======================================================================
As CEO of Jive Software, Dave Hersh is responsible for overseeing the company's strategic direction, planning and implementation. In seven short years, Dave has led Jive Software from a small open source project to an Inc. 500 company with 100 percent annual growth rates.
Previously, Dave held the roles of CFO and product strategist at 4charity. Prior to that, he was a management consultant to Hewlett Packard, focused on HP's Worldwide Information Management Strategy. Dave began his career as a strategy and change management consultant at VIA International in Chicago and London.
Dave has gained a reputation for his deep industry knowledge of collaboration, knowledge management and open source, and he is frequently tapped to present at industry events and serve as a media reference. He holds a Bachelor's degree in Economics from DePauw University.