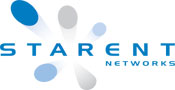 "Despite a rough market on Wednesday, there were no problems with the IPO of Starent Networks (Nasdaq: STAR). The offering, initially priced a buck above its $9-to-$11 range, surged 16.75% on its first day of trading. Its successful market debut gives the company an additional $100 million in the bank to fuel further expansion.
Starent develops software and hardware systems to help mobile operators deliver video, Internet access, email, and games. The platform also enables subscriber management, billing, content filtering, and security."
"
As with other recent high-growth IPOs such as Riverbed Technologies (Nasdaq: RVBD) and Aruba Networks (Nasdaq: ARUN), Starent's valuation isn't cheap: Shares are trading at about 8.5 times sales
. But according to a study from Strategy Analytics, the wireless data services market is expected to grow from $106 billion in 2006 to $200 billion in 2011. That's a nice headwind for Starent."