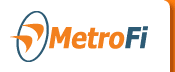 " MetroFi's planned Wi-Fi network in Portland, Ore., will feature locally focused MSN content and advertising, thanks to a newly forged deal with Microsoft.
As part of the combined effort, the network will feature the Microsoft adCenter platform, which, according to the companies, will help advertisers reach local Wi-Fi users. The adCenter can target these users by analyzing browsing habits, as well as the gender, age and location of a given user. The collaboration with Microsoft marks MetroFi's largest citywide Wi-Fi network project, and will bring free wireless Internet access to Oregon's largest city, which has more than a half-million residents."
Notes (internet.com):
"In the me-too world of muni Wi-Fi ISPs, one company stands out with a well differentiated and original offering. Mountain View, Calif.-based
MetroFi Inc.
, an ISP co-founded by Chuck Haas, one of the founders of
Covad Communications Group
, is building citywide Wi-Fi networks in communities across the U.S. and offering free, advertising-supported service. MetroFi, formed in 2002, turned on its first city, Cupertino, CA, in May 2005. Today, it has six communities up and running and another seven in the pipeline."
More Notes:
August Capital, a large
investor
in MetroFi, probably had a lot to do with the MetroFi / Mister Softie partnership, as
Dave Marquadt
of August was an early investor in Microsoft. MetroFi has raised over $8M from August and Sevin Rosen, as well as taking in a venture loan from Western Technology. According to
OM
, the company plans to raise money sometime next year.
This appears to be a big deal for MetroFi, who only recently seemed to be taking in their last deathbed breath. Stay tuned for more possible announcements.